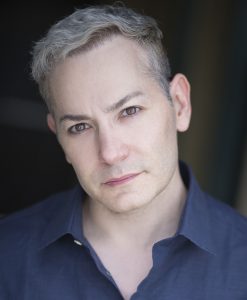 Those of you who have been listening to the audio versions of the John Pickett books may have been wondering about the man behind John Pickett's voice. (He's actually the man behind Julia's voice too, as well as Mr. Colquhoun's and all other other characters.) I'm pleased to give you this glimpse "behind the scenes" at award-winning audiobook narrator Joel Froomkin!
SCS: Tell me a little about your background. How much of your voice work is natural talent, and how much is theatrical training?
JF: Well, I grew up in Bermuda, which is a British colony, and that kind of forged the way for me to be a little bit of a dialect freak. I went to a British school where my teachers were from all over the UK. So I grew up absorbing all these different sounds without even being conscious of it. My best friend was Scottish, my "adopted" grandparents were English, and I lived in London for three years. So I was lucky, growing up around all these sounds AND having American parents. In terms of training, I did my undergrad in performance at USC, and then my MFA in directing—which is actually ideal for audiobooks, because you are usually your own director. Being able to listen with an objective ear and say to yourself, "Nope, that doesn't sound truthful" is a real help. So to answer your question, I think I ended up with a really unique combination of "nature" and "nurture" that allows me to tackle unique projects as a narrator.
 SCS: What do you look for when choosing a project to audition for? What appeals to you?
JF: It really depends. But I get really excited about things that allow me to play with a lot of characters and dialects. I think that's because my passion for audiobooks came from listening to Roy Dotrice and Jim Dale, who really create an entire cast of voices. Personally, I love cozy mysteries (M. C. Beaton and Alexander McCall Smith are my favs), so working in that genre is a real treat. John Pickett's adventures let me enjoy both of those things. I'd love to do fantasy as well, because it allows so much latitude with vocal characterization. Because of my background, I'm often hired to do books that feature American AND British characters. People who have listened to only my British books get really confused when they hear one of my American titles!
 SCS: After we contracted to do the John Pickett mysteries, you had me send you a spreadsheet listing every speaking character, along with each character's age, occupation/social class, three words describing them—and one unexpected item. Can you tell my readers what that was, and why you find it helpful in creating a voice?
JF: It's important to me to try and get a real sense of what was in the author's imagination. I've found authors tend to think of their characters more visually than vocally—so I have a series of questions that helps me focus in on the aspect that most concerns me.
I ask them the age of the character; very often, the minor characters—servants, etc.—are not really given much detail—and I can interpret them as 86 years old and find out three books later that the author refers to them as 22! The level of education is important—especially for British material, where dialects are very much tied to level of class. I need to know if they grew up in any specific region, and whether any other characters in the book were also raised there, because they will share sounds.
I ask if there is a particular celebrity the author imagines would play the character in a movie. About half the time, these suggestions aren't useful, because the author is thinking visually, not vocally—so they will tell me that Chris Pratt would be a character in a British Victorian story. That doesn't help. But when they are able to tap into the voice type, knowing that someone sounds like Eddie Redmayne vs. Sean Bean, that is helpful.
The last thing, which actually is the most helpful, is what kind of animal they think the character would be—kind of like what is their Patronus. LOL. Knowing an author imagines a character is a weasel vs. a toad or a Persian cat vs. a bear is a huge help to find their voice.
 SCS: Okay, so I've sent you the character spreadsheet and the book manuscript. What's next for you? Walk me through your process.
Then I read the book, with the author's character sheet right by my side. It's important to know the arc of the story and the characters before I start—particularly with a mystery, because I have to be careful not to telegraph the ending by making the murderer too obvious. Mysteries are also very tricky because there are often "mysterious voices" that are overheard, or anonymous telephone calls (in more modern material). Those are always really tricky to figure out how to voice so the listener doesn't identify the bad guy!
 SCS: Let's talk for a minute about the John Pickett books. What part of the books presents the greatest challenge for you? What part do you find the most enjoyable?
JF: I think getting to voice the prequel, Pickpocket's Apprentice, was a huge help to me.  [SCS: Joel also won an Earphones Award from AudioFile for his work on this book, which I suspect increased his affection for it exponentially!] It meant that we have been able to chart his growth in education and his ability to assimilate into a class above his station. He still speaks in what we would call "mockney"—certainly not BBC English. But when he is speaking with servants, his dialect shifts to seem more relatable to them. When he is with the upper classes, he tries not to drop consonants or use glottal stops. Very often, historical writers make the mistake of assuming that lower-class people can just "pretend" to have an upper-class sound. But if that were the case, there would be no reason for My Fair Lady to exist—Eliza Doolittle wouldn't have needed Henry Higgins! So we've found a way to progress John Pickett that I really enjoy. I love the character—in my head, I'm playing Eddie Redmayne playing John Pickett. For some reason, when I'm voicing Lady Fieldhurst, I always think of a young Eva Green.
 Thanks so much! I look forward to working with you on the other books in the series. Fun things in store  include a whole family of Scottish characters (in Family Plot, Book 3), John singing "Drink to Me Only with Thine Eyes" while pretending to be drunk (Waiting Game, another John Pickett novella, Book 4.5), and of course the romantic resolution (Too Hot to Handel, Book 5). I can't wait to hear what you do with them!
(If you'd like to hear a sample of Joel's work, here's a short excerpt from A Dead Bore. Enjoy!)