I recently had the pleasure of going on a cruise on the English Channel—stops in Rotterdam and on the island of Guernsey, culminating in a couple of days in London before heading back home. This was actually my second visit to London. During the first, thirteen years ago, I'd concentrated on places that would have been fashionable during the Regency period, including day trips to Brighton and Bath.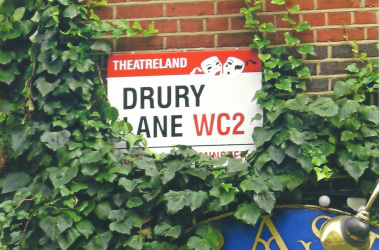 But that was before my reinvention as a mystery writer. This time around, I decided to focus on places that would have been familiar to John Pickett. The logical place to start, then, was Bow Street, where he and his fellow Runners were based, and Drury Lane, where he hired rooms. (Warning: You may notice that I refer to my characters as if they are/were real people. I'm sorry if this strikes you as pretentious or silly, but I don't know how else to do it—they ARE real to me!)
---
Anyway, my husband and I set out early Tuesday morning, navigating the Tube until we reached Bow Street. We hadn't walked far until we came to the Bow Street Magistrates' Court, where I was determined to have my picture taken! Pity my poor husband, who admits he is no photographer: I made him take this picture
four times before he got one that suited me!
---
Next, we walked northeast to the upper end of Drury Lane and began following it southeast. I already knew that I wouldn't find John Pickett's hired lodgings; besides the fact that I made them up out of whole cloth, the entire lower end of Drury Lane was razed around the turn of the 20th century to make room for the area now known as Aldwych. For the sake of my trip, this might have been a good thing: better, surely, not to find it at all than to discover I'd gotten it wrong! In fact, there was a theatre situated just about where I'd pictured Pickett's flat as being located—and that theatre was staging a production of Top Hat, based on the Fred Astaire-Ginger Rogers musical of the same name! Later that day, we rushed off to Leicester Square and bought tickets, and returned to Drury Lane that night to see the show.
---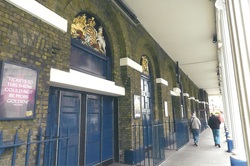 But that's a subject for another blog. I took a picture of the Drury Lane street sign, just to prove I had really been there, and we continued
southwest along Russell Street past the Theatre Royal in Drury Lane. Just to show what a good sport my husband is, when I told him that this theatre was the one built in 1812, he said, "Oh, is that the one that replaced the one you burned
down?" Naturally, I replied with an enthusiastic "Yes!" (In fact, the theatre did burn in 1809, which is a major plot point in the as yet untitled John Pickett mystery #5. But we sure gave all the other tourists something to think about!)
---
We had a few extra hours that afternoon, so we spent them walking up and down many of the streets my Regency characters would have known. This may not have meant much to my husband, but it was a real kick in the pants for me to see the street names and say, "Oh, look, Mike! Audley Street! Lady Dunnington lives there!" (Have I mentioned what a good sport Mike is?)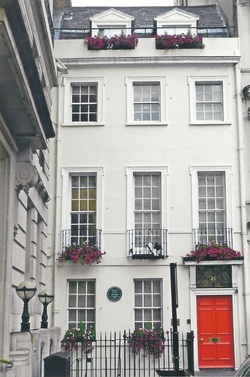 One of the places we walked through was Berkeley Square. Those who have been following the John Pickett mysteries from their beginning (In Milady's Chamber) may remember that it is in the Fieldhurst town house in Berkeley Square that Lord Fieldhurst is murdered, leaving Lady Fieldhurst (a) a
widow; and (b) a suspect in her husband's death. It is here that John Pickett first sees her and is instantly smitten. Now, as I looked around Berkeley Square, I found this house and
decided it looked like it might have been the one.
---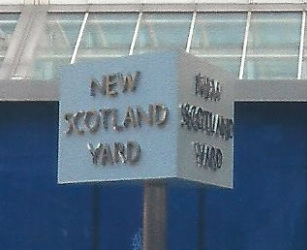 Finally, we returned to our hotel, which happened to be located just around the corner from New Scotland Yard—appropriate enough, since it was the Metropolitan Police Service, formed in 1829 and headquartered at Scotland Yard, that eventually replaced the Bow Street force.
---