Welcome!
I'm glad you came to visit. I'm Sheri Cobb South, author of more than twenty novels in a variety of genres ranging from Regency romance to young adult to historical mystery.
It's been a very busy summer, with lots of new "stuff" to report! First, John Pickett Mystery #9, Into Thin Eire, is available now!
Now you see her…
Still haunted by memories of his last case, in which an innocent woman was accidentally killed, Bow Street Runner John Pickett welcomes the challenge of a new assignment in the West Country. Unfortunately, this time he'll have to leave his beloved wife, Julia, behind, as he'll be traveling in company with Harry Carson, a member of the Horse Patrol whose swaggering self-confidence is an uneasy fit with Pickett's reserve.
Now you don't…
After three days of trying without success to make contact with the man who sent for him, Pickett receives word from Bow Street that Julia has been abducted. Suddenly his current case takes on much more ominous implications. And if the man behind it all is the one Pickett fears it is, then Julia is in mortal danger . . .
Get your copy now! (Also coming soon to audio, once again performed by award-winning narrator Joel Froomkin!)
In case you missed it, (and "ICYMI" is the latest of the acronyms I have to think hard to remember every time I see it online) Miss Darby's Duenna has been re-released after being out of print for more than a year—and this time around, it has lovely custom artwork by Flo Minowa, the artist behind the cover re-design of The Weaver Takes a Wife and its sequels! It's not quite the first Regency I ever wrote (that one is stuffed into a drawer, where it will very likely remain), but it was the first one that brought me recognition in the genre, having won the 1996 Royal Ascot Award.
Authors are frequently asked, "Where do you get your ideas?" and the answer, for me, at least, is usually, "Um, I don't know?" But I distinctly remember where this one came from. I was at the Romance Writers of America conference when I attended a panel discussion in which editors from a certain publishing house were talking about what they were looking for in the manuscripts they received. One announced that she was tired of seeing "chicks in pants" books in which the heroine was disguised as a boy. My mind working the way it does, I immediately thought, "I wonder about a book in which the hero is disguised as a woman?" The idea just wouldn't leave me alone, and the result was Miss Darby's Duenna, winner of the Royal Ascot and, a few years later, runner-up in Writer's Digest's first-ever Self-Published Book Awards.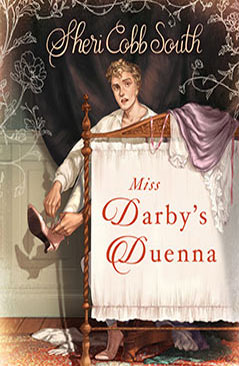 A lady in distress . . .
A gentleman in a dress?
Amiable but clueless young baronet Sir Harry Hawthorne thought he was making a marriage of convenience to a childhood friend—until his fiancée catches the eye of dashing and dangerous Lord Mannerly. Suddenly Sir Harry's jealousy is roused to the point that he assumes the identity of his reclusive grandmother in order to keep the all-too-grown-up Miss Olivia Darby under his watchful eye.
But the course of true love never did run smooth, and among the obstacles Sir Harry must face are a love-struck younger sister, an elderly widower with an amorous interest in the faux "Lady Hawthorne," and a rival more ruthless than Sir Harry ever imagined . . .
"A book you can give to friends who don't read romance but enjoy the wit of Jane Austen and Oscar Wilde." —All About Romance
Also coming soon in paperback and audiobook editions!
I, along with my wonderful narrators, also had the honor of receiving several awards this summer:
Noah Michael Levine and I won the Independent Audiobook Award, Romance category, for Brighton Honeymoon.
Two days later, I won the Colorado Authors League's award, again in the Romance category, for The Desperate Duke.
Last but not least, Joel Froomkin and I picked up an Earphones Award from AudioFile magazine for Peril by Post—our third such award for the John Pickett series!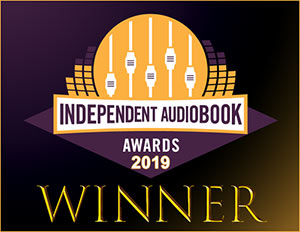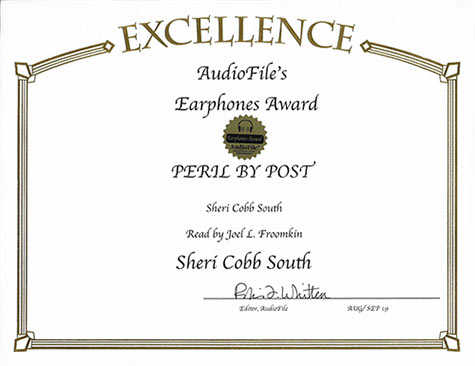 Finally, if you've been frustrated by the fact that John Pickett books 3-5 (Family Plot, Dinner Most Deadly, and Too Hot to Handel) are only available as Kindle ebooks, I have what I hope will be good news! The original hardcover publisher, Five Star/Cengage, will be reverting the rights back to me. At that point, I can make them available through other ebook vendors, as well as in paperback editions. I hope to have all this accomplished by the end of the year; if I don't make that deadline, please bear with me, and know that I'm working on it.
Did you know...?
In addition to the two novellas, there are three short stories that are companions to the John Pickett mystery series. And they can be downloaded for FREE! Click on the links below to download them to your Kindle or other e-reader, or as a .pdf file to print out or read straight from your computer.
"I'll See You in My Dreams" - Also known as "The honeymoon story," this short-short is like an epilogue at the end of Too Hot to Handel. (It's still PG-rated, though.) Get it here.
"Finders Weepers" - This rather longer story (about 15 typed double-spaced pages) takes place just after the events of Book 6, For Deader or Worse. (If you have half an hour to kill, you can also listen to it; just scroll down the page until you reach the link.) Download it here.
"Tales out of School" - This short story is about the same length as "Finders Weepers," and follows Mystery Loves Company. (It contains major spoilers to at least two of the earlier books, so it's not a great choice for beginning the series.) You can download it here.
If you'd like to hear my books narrated by some of the top talents in the growing field of audiobooks, you can get your first selection FREE when you open an account at Audible. (Thereafter, you'll get a credit each month, which you can use for any audiobook you choose.) Interested? Here are a couple of links to get you started:
In Milady's Chamber, Book 1 in the John Pickett mystery series.

Or, if you'd rather start with the prequel novella, you can do so here.

If The Weaver Takes a Wife, voiced by Noah Michael Levine, is more your thing, here's a link to it.
If you're new to audiobooks and aren't sure if you'd like them (or if you've just wondered what John Pickett sounds like!), here's "Finders Weepers," a free short story for you to enjoy. It's a 35-minute listen (about 15 typed double-spaced pages); chronologically, it follows For Deader or Worse, but it's not necessary to have read that book to understand the story.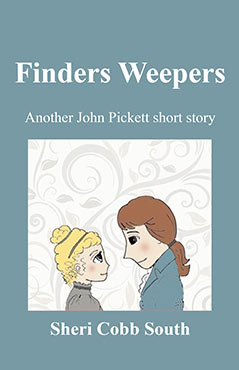 LISTEN TO FINDERS WEEPERS HERE!