Welcome!
I'm glad you came to visit. I'm Sheri Cobb South, author of more than twenty novels in a variety of genres ranging from Regency romance to young adult to historical mystery.
I'm pleased to announce that Book 10 of the John Pickett mystery series, Brother, Can You Spare a Crime?, will be available on June 12 in ebook form; paperback and audiobook editions will follow shortly afterward. It can be pre-ordered by clicking any of the links below.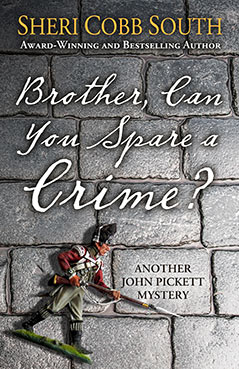 When one of his colleagues witnesses a robbery in which one of the participants, a child, bears a striking resemblance to a certain Bow Street Runner, John Pickett realizes he has a young half-brother who has been apprenticed to a criminal gang. The brutal murder of the pursuing constable makes the crime far more serious than a simple robbery would be—and ten-year-old Kit is linked to the crime by the toy soldier he dropped while fleeing the scene.
In spite of his tender years, he will certainly hang unless Pickett can extricate him before fellow Bow Street Runner Robert Maxwell solves the case. For the first time in his career, Pickett is obliged to work against one of his fellows, dogging Maxwell's steps and trying to anticipate his next move in order to get to the boy first.
Pickett's investigation will take him back to the rookeries of London where his own childhood was spent. But can he return to his old haunts without being pulled back into his old way of life?

Once again, narrator Joel Froomkin and I have made the finals of the Independent Audiobook Awards!
• Mystery: Into Thin Eire
• Humor: Miss Darby's Duenna
• Best Male Narrator: Joel Froomkin, Into Thin Eire


Did you know...?
In addition to the two novellas, there are three short stories that are companions to the John Pickett mystery series. And they can be downloaded for FREE! Click on the links below to download them to your Kindle or other e-reader, or as a .pdf file to print out or read straight from your computer.
"I'll See You in My Dreams" - Also known as "The honeymoon story," this short-short is like an epilogue at the end of Too Hot to Handel. (It's still PG-rated, though.) Get it here.
"Finders Weepers" - This rather longer story (about 15 typed double-spaced pages) takes place just after the events of Book 6, For Deader or Worse. (If you have half an hour to kill, you can also listen to it; just scroll down the page until you reach the link.) Download it here.
"Tales out of School" - This short story is about the same length as "Finders Weepers," and follows Mystery Loves Company. (It contains major spoilers to at least two of the earlier books, so it's not a great choice for beginning the series.) You can download it here.
If you'd like to hear my books narrated by some of the top talents in the growing field of audiobooks, you can get your first selection FREE when you open an account at Audible. (Thereafter, you'll get a credit each month, which you can use for any audiobook you choose.) Interested? Here are a couple of links to get you started:
In Milady's Chamber, Book 1 in the John Pickett mystery series.

Or, if you'd rather start with the prequel novella, you can do so here.

If The Weaver Takes a Wife, voiced by Noah Michael Levine, is more your thing, here's a link to it.
If you're new to audiobooks and aren't sure if you'd like them (or if you've just wondered what John Pickett sounds like!), here's "Finders Weepers," a free short story for you to enjoy. It's a 35-minute listen (about 15 typed double-spaced pages); chronologically, it follows For Deader or Worse, but it's not necessary to have read that book to understand the story.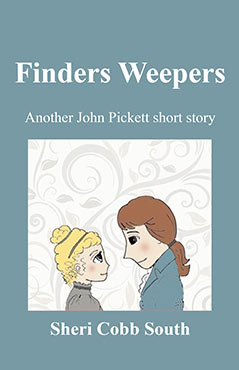 LISTEN TO FINDERS WEEPERS HERE!