Welcome!
I'm glad you came to visit. I'm Sheri Cobb South, author of more than twenty-five novels in a variety of genres ranging from Regency romance to young adult to historical mystery.
After no fewer than three pandemic-related delays, Death Can Be Habit-Forming (aka John Pickett Mystery #11) is finally here! It wasn't until I was deep into last-minute editing that I realized just how much the pandemic and, perhaps especially, the lockdown that accompanied it, had affected my writing. To my surprise, it was all there, not only in the obvious references to the smallpox inoculation (developed scarcely a decade earlier) and the lingering public mistrust of it, but also in the sense of confinement and the almost claustrophobic feel of certain scenes.
But you can read all about that in my current blog on the subject. On the the main event:
Having resigned his position at Bow Street in disgrace (at least in his own mind) and failed to establish himself as a private agent, John Pickett toils away at a tedious job as a clerk in the City. When he is approached by a man wishing to hire him to extract a young lady being held against her will at an asylum for opium-eaters, Pickett jumps at the chance to prove himself, and persuades a very reluctant Julia to commit him to the institution as a patient. But nothing at the Larches is exactly as it seems, and while getting in may be easy, getting out may be another matter entirely...

John Pickett and I fared very well in this year's Colorado Authors League Awards for Excellence! Brother, Can You Spare a Crime? won the award for Action/Adventure, after being a double finalist in that category as well as the Mystery category. The John Pickett/It's a Wonderful Life mashup novella Nowhere Man was a dual finalist in both Fantasy and Paranormal. Finally, my blog post "Mudlarking!" was a finalist in the Blogging category.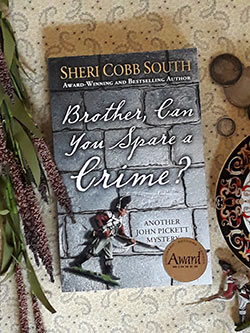 Now you can complete your collections (and save money too!) with these convenient 4- or 5-book box sets!
John Pickett Mysteries 1-5 (In Milady's Chamber, A Dead Bore, Family Plot, Dinner Most Deadly, and Too Hot to Handel)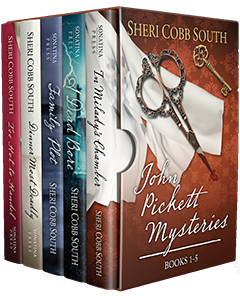 John Pickett Mysteries 6-10 (For Deader or Worse, Mystery Loves Company, Peril by Post, Into Thin Eire, and Brother, Can You Spare a Crime?)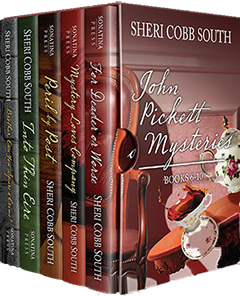 The "Weaver" Series (The Weaver Takes a Wife, Brighton Honeymoon, French Leave, and The Desperate Duke)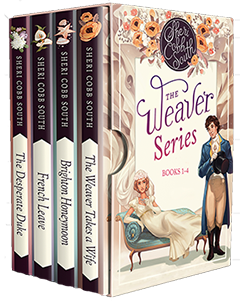 Did you know...?
In addition to the three novellas, there are three short stories that are companions to the John Pickett mystery series. And they can be downloaded for FREE! Click on the links below to download them to your Kindle or other e-reader, or as a .pdf file to print out or read straight from your computer.
"I'll See You in My Dreams" - Also known as "The honeymoon story," this short-short is like an epilogue at the end of Too Hot to Handel. (It's still PG-rated, though.) Get it here.
"Finders Weepers" - This rather longer story (about 15 typed double-spaced pages) takes place just after the events of Book 6, For Deader or Worse. (If you have half an hour to kill, you can also listen to it; just scroll down the page until you reach the link.) Download it here.
"Tales out of School" - This short story is about the same length as "Finders Weepers," and follows Mystery Loves Company. (It contains major spoilers to at least two of the earlier books, so it's not a great choice for beginning the series.) You can download it here.
If you'd like to hear my books narrated by some of the top talents in the growing field of audiobooks, you can get your first selection FREE when you open an account at Audible. (Thereafter, you'll get a credit each month, which you can use for any audiobook you choose.) Interested? Here are a couple of links to get you started:
In Milady's Chamber, Book 1 in the John Pickett mystery series.

Or, if you'd rather start with the prequel novella, you can do so here.

If The Weaver Takes a Wife, voiced by Noah Michael Levine, is more your thing, here's a link to it.
If you're new to audiobooks and aren't sure if you'd like them (or if you've just wondered what John Pickett sounds like!), here's "Finders Weepers," a free short story for you to enjoy. It's a 35-minute listen (about 15 typed double-spaced pages); chronologically, it follows For Deader or Worse, but it's not necessary to have read that book to understand the story.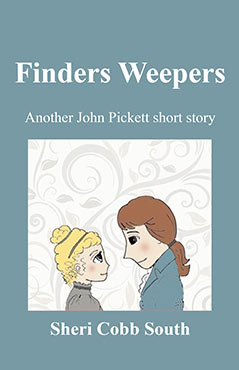 LISTEN TO FINDERS WEEPERS HERE!