Welcome!
I'm glad you came to visit. I'm Sheri Cobb South, author of more than twenty novels in a variety of genres ranging from Regency romance to young adult to historical mystery.
I'm packing my suitcases for both the Romantic Times Booklover's Convention May 15-20 in Reno (where I'll be co-hosting the Garters & Gold Dust Historical Revue) and the Romance Writers of America conference July 18-21 in Denver. If you plan to attend either event--or both!--be sure to look me up. Buy any books you're missing, let me autograph your existing collection, or just load up with free swag!
My newest release is Mystery Loves Company, a new John Pickett novel!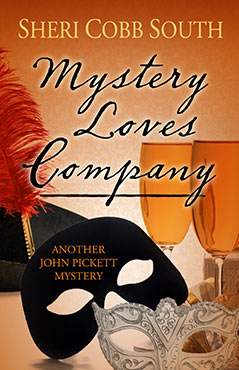 Here's the book's blurb:
Returning to London after his honeymoon (For Deader or Worse), Bow Street Runner John Pickett soon discovers wedded bliss is not without its pitfalls, as he finds it galling to be financially dependent on Julia, his aristocratic bride. When he is summoned to the home of Lady Washbourn, Pickett finds he has something in common with the young countess: like himself, Lady Washbourn has married above her station, and now finds herself adrift in a world to which she does not truly belong.
After a series of unsettling incidents—dismissed as accidents by Lord Washbourn and his mother, the dowager countess—Lady Washbourn fears her husband is trying to kill her. The couple will be hosting a masquerade ball, and the countess fears the anonymity of masks and costumes may afford Lord Washbourn an opportunity to make another, bolder attempt on her life. Tricked out in fancy dress for the occasion, Pickett feels more than a little foolish, but when one of the housemaids dies shortly after stealing a sip of Lady Washbourn's ratafia, he realizes her ladyship's fears were not unfounded.
Then the coroner's jury returns a verdict of death by natural causes, and Lord Washbourn makes it clear that he considers the matter settled. Pickett stakes his professional reputation on proving the maid was murdered with a poison intended for her mistress. And with a reward of fifty pounds sterling riding on his successful resolution of the case, the marriage Pickett saves just might be his own.
A big "Thank you!" to Audiofile Magazine for honoring the John Pickett mystery series and its awesome narrator, Joel Froomkin, with our second(!) Earphones Award! The winning book this time was Book 3, Family Plot; the first was for the prequel novella, Pickpocket's Apprentice. You can find them, as well as all my other audiobooks, here. Not an Audible member? Not to worry! you can also find them on Amazon.
If you're new to audiobooks and aren't sure if you'd like them (or if you've just wondered what John Pickett sounds like!), here's "Finders Weepers," a free short story for you to enjoy. It's a 35-minute listen (about 15 typed double-spaced pages); chronologically, it follows For Deader or Worse, but it's not necessary to have read that book to understand the story.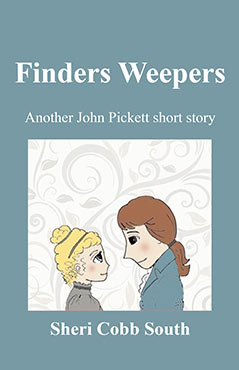 LISTEN TO FINDERS WEEPERS HERE!
Look for John Pickett #8, Peril by Post, in October. Click on the cover image to get a hint of what's in store for newlyweds John and Julia Pickett.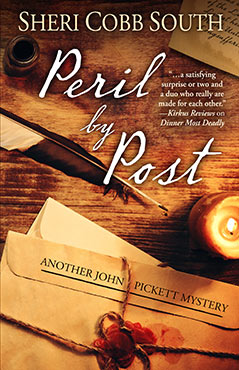 Can't wait that long? In the meantime, enjoy this FREE John Pickett short story: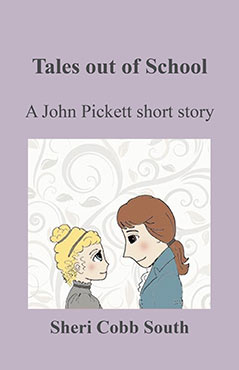 Finally, I'm pleased to announce that the "Weaver" books have a whole new look, thanks to the beautiful artwork of Florence Minowa! Take a look--and be sure to watch for a brand new "Weaver" book featuring Lady 'elen's young brother Theo, Viscount Tisdale. (Publication date TBA.)