Welcome!
I'm glad you came to visit. I'm Sheri Cobb South, author of more than twenty novels in a variety of genres ranging from Regency romance to young adult to historical mystery.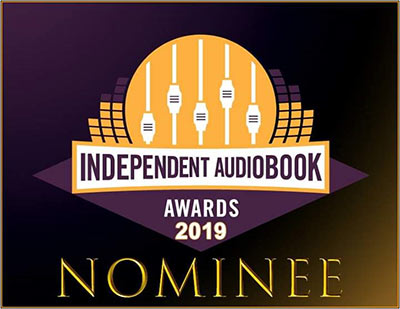 This spring has been very good to me! I have 3(!!!) books in the finals of the Independent Audiobook Awards, in 3 different categories, by 2 different narrators:
· Too Hot to Handel, narrated by Joel Froomkin, is a finalist in the Mystery category
· Waiting Game, also narrated by Joel Froomkin, is a finalist in the Short Story (less than 4 hours listening time) category
· Brighton Honeymoon, narrated by Noah Michael Levine, is a finalist in the Romance category
The winners will be announced June 7 in Kansas City, Missouri. I'd booked my flight and reserved my hotel room when I received word that my December 2018 release, The Desperate Duke, was a finalist in the Colorado Authors League's Awards for Literary Excellence, in the Romance category—and the award ceremony was the same day as my flight from Kansas City! I had to change to an earlier flight to get back in time, but as my husband said, when am I going to have another opportunity like that?
Speaking of The Desperate Duke, it's now available in ebook, paperback, and audiobook formats!
It's been almost twenty years since the publication of The Weaver Takes a Wife, and I'd thought I had said all I had to say about these particular characters—until Lady 'elen's younger brother started insisting that his story be told! When Theo, Lord Tisdale inherits his father's dukedom at age 23, his new responsibilities are enough to send him haring back to London in a blind panic. It's up to everyone's favorite weaver, Ethan Brundy, to haul him back onto the rails, with a little help from a young lady who has fallen on hard times since the death of her own father.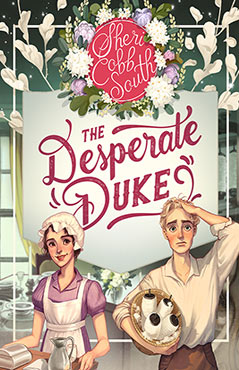 New Book News:
My son just finished his enlistment in the Air Force, and came for a visit to use up his remaining leave before going to the University of Alabama, where he'll be studying sports broadcasting. While he was here, he and I co-wrote a middle grade sports novel, inspired by those of Matt Christopher, which he used to love as a kid. If you have (or know of) a sports-mad kid and/or a reluctant reader, try giving them a copy of Put Me In, Coach! It's available in paperback and ebook formats, and will soon be available as an audiobook, too.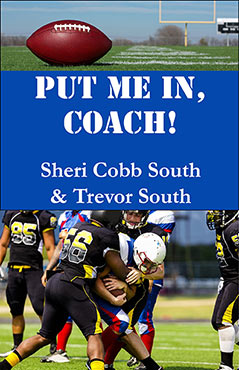 Cole just wants to play football...but he can't even get off the bench!
Seventh-grade running back Cole Patterson is sure he could make big plays for the Oak Valley Middle School Mustangs, but the coach won't even put him in the game--and the coach is his dad!
Now star linebacker Jack Riley is saying Cole wouldn't even be on the team if his dad wasn't the coach. When Cole finally gets his chance to prove Jack wrong, will he take it? Or will he do what's best for the team?
Did you know...?
In addition to the two novellas, there are three short stories that are companions to the John Pickett mystery series. And they can be downloaded for FREE! Click on the links below to download them to your Kindle or other e-reader, or as a .pdf file to print out or read straight from your computer.
"I'll See You in My Dreams" - Also known as "The honeymoon story," this short-short is like an epilogue at the end of Too Hot to Handel. (It's still PG-rated, though.) Get it here.
"Finders Weepers" - This rather longer story (about 15 typed double-spaced pages) takes place just after the events of Book 6, For Deader or Worse. (If you have half an hour to kill, you can also listen to it; just scroll down the page until you reach the link.) Download it here.
"Tales out of School" - This short story is about the same length as "Finders Weepers," and follows Mystery Loves Company. (It contains major spoilers to at least two of the earlier books, so it's not a great choice for beginning the series.) You can download it here.
If you'd like to hear my books narrated by some of the top talents in the growing field of audiobooks, you can get your first selection FREE when you open an account at Audible. (Thereafter, you'll get a credit each month, which you can use for any audiobook you choose.) Interested? Here are a couple of links to get you started:
In Milady's Chamber, Book 1 in the John Pickett mystery series.

Or, if you'd rather start with the prequel novella, you can do so here.

If The Weaver Takes a Wife, voiced by Noah Michael Levine, is more your thing, here's a link to it.
If you're new to audiobooks and aren't sure if you'd like them (or if you've just wondered what John Pickett sounds like!), here's "Finders Weepers," a free short story for you to enjoy. It's a 35-minute listen (about 15 typed double-spaced pages); chronologically, it follows For Deader or Worse, but it's not necessary to have read that book to understand the story.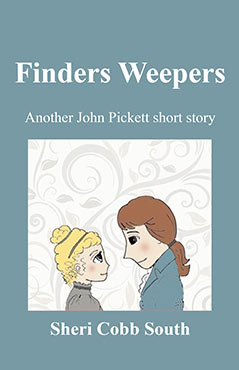 LISTEN TO FINDERS WEEPERS HERE!